PALS Provider Manual eBook, International English
Format : eBook | Product Code : 15-2812 | ISBN 13 : 978-1-61669-610-8
Manual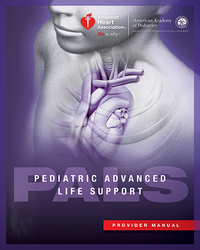 Description
International English (IVE) materials have been adapted for training outside the United States and Canada. IVE training materials have been updated to include metric units of measure and other references that do not apply to students in the U.S. and Canada.
The PALS Provider Manual eBook is the electronic equivalent of the AHA's PALS Provider Manual. It offers an alternative to the printed course manual and is for use by a single student before, during and after the PALS Course. This eBook contains all of the information students need to know to successfully complete the PALS Course. It is also used as a clinical reference. The PALS course uses a series of videos and simulated pediatric emergencies to reinforce the important concepts of a systematic approach to pediatric assessment, basic life support, PALS treatment algorithms, effective resuscitation and team dynamics. The goal of the PALS Course is to improve the quality of care provided to seriously ill or injured children, resulting in improved outcomes.
A separate supplementary tool, the PALS Digital Reference Card, is included with the purchase of the PALS Provider Manual eBook. This reference card set is the electronic equivalent of the PALS Reference Card.
NOTE: Prior to purchasing an AHA eBook for a classroom-based course, students should check with their Instructor or Instructor's Training Center Coordinator to ensure that mobile devices will be allowed in the classroom.