PEARS Provider Manual eBook, International English
For Students outside of the US and Canada
Format : eBook | Product Code : 15-2815 | ISBN 13 : 978-1-61669-626-9
$36.25
Manual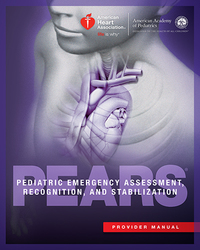 Description
The PEARS Provider Manual eBook contains all of the information students need to know to successfully complete the PEARS Course. The PEARS Course has been updated to reflect new science in the 2015 AHA Guidelines Update for CPR and ECC. The PEARS Provider Manual is designed for use by a single student as a reference tool pre- and post-course. The PEARS Course is a classroom, Instructor-led, video-based course that teaches healthcare providers caring for pediatric patients the foundational skills needed to assess, recognize, and participate in the initial management of respiratory and/or cardiovascular emergencies and cardiopulmonary arrest. During the course, case-based
instruction will be used to teach students to provide appropriate lifesaving interventions within the initial minutes of response until the child is transferred to an advanced life support provider.

The goal of the PEARS Provider Course is to improve outcomes for pediatric patients by preparing healthcare providers for assessment, early recognition, prompt communication, and initial intervention in patients with respiratory emergencies, shock, and cardiopulmonary arrest by using high-performance team dynamics.

Topics covered include:
• Systematic pediatric assessment
• Recognition and stabilization of respiratory emergencies
• Recognition and stabilization of shock emergencies
• Recognition and stabilization of cardiopulmonary arrest
• Resuscitation team concept

This manual also gives students access to a website containing additional information and reference materials to help them successfully complete the course.

NOTE: Prior to purchasing an AHA eBook for a classroom-based course, students should check with their Instructor or Instructor's Training Center Coordinator to ensure that mobile devices will be allowed in the classroom.