ACLS Course Videos in Streaming Format (for Instructors)
Format : Video | Product Code : 15-1413 | ISBN 13 : 978-1-61669-652-8 | Published Date : 2019-01-10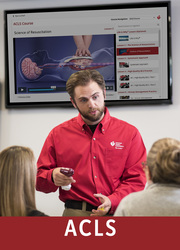 Description
Note: Instructor videos are not available to download for offline use at this time.

The streaming format of the ACLS Course Videos features the same content as the ACLS DVD. The streaming format allows Instructors to stream course videos with an internet connection and is an alternative option to DVDs/DVD players. The ACLS Course Video in streaming format is to be used by AHA ACLS Instructors to teach the ACLS Course, including classroom and blended learning versions.

Course Videos Included:
ACLS Course
ACLS Update Course
HeartCode ACLS

Specifications:
Closed Captioning

Run Time:
ACLS Classroom Course: 114 min
ACLS Update Course: 42 min
HeartCode ACLS: 37 min

Intended Audience:
The ACLS Course Video in Streaming Format is intended for use by a single ACLS Instructor conducting ACLS courses.